I live in the Newport area of Jersey City. This is a relatively new development at the Hudson waterfront, roughly across the river from the World Trade Center.
On the right you can see two pictures of Riverside, the 30-story apartment building I live in. I am on the 22nd floor, on the North side.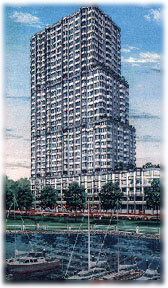 Artist's Rendering
View from 900 feet,
flying along the Hudson
---

Midtown Manhattan View
My view of midtown Manhattan and the Hudson River was fantastic for about a year. The photo above shows you what it used to look like.
Unfortunately, people here have gotten quite skilled at pouring concrete, and it took them only a few weeks to erect the skeleton of yet another apartment building, right in the middle of my view! I can still see the Empire State building, though.
---